New apartment construction promises to change Portland, for better or for worse.   Here's a story, reduced to a few snappy talking points you can share with your friends and colleagues the next time you feel a compulsion to "be the expert."
But first, a little background.
Few sectors of the past years' economic recession were harder hit than new home construction.   While new home formation grew (marriages, families, immigration), housing starts dropped dramatically.  Now that we're climbing out of the recession, housing starts are moving up, but the nation has a long way to go to meet demand.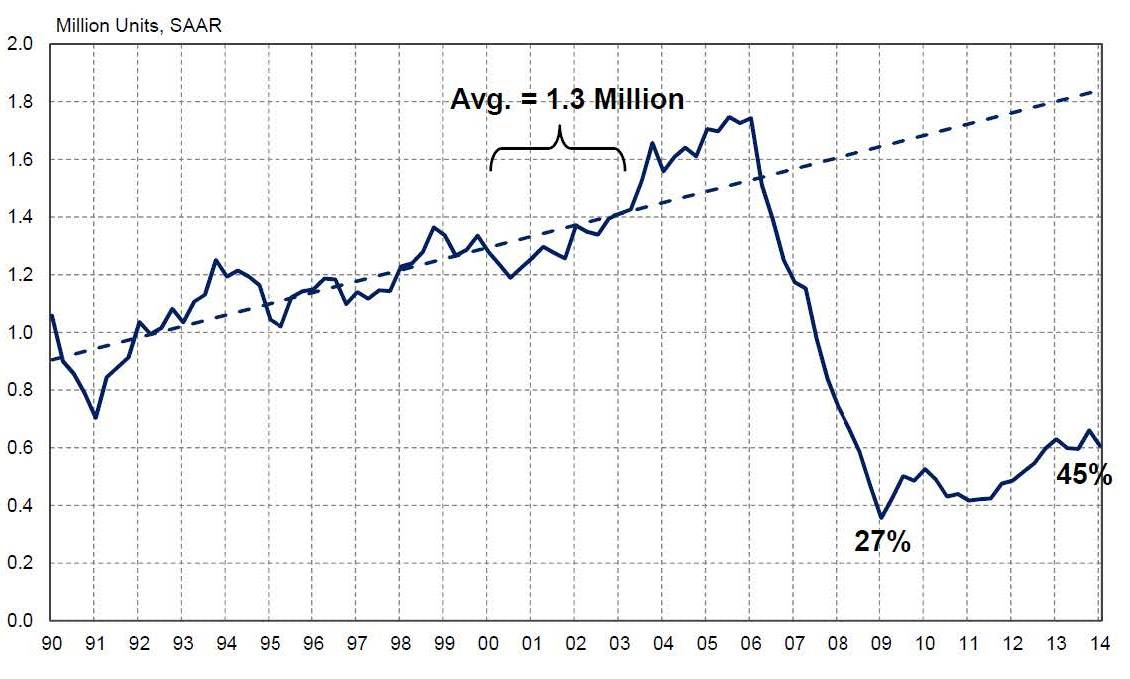 Source: US Census Bureau
The chart shows new single family home starts.  The nation was averaging 1.3 million home starts in the years leading up to the recession.  Starts fell to 27% of pre-recession levels between '07 and '09, and today they're only near 45% of the pre-recession levels.  It will take years for new home construction to catch up with demand.
Meanwhile, here in Portland:
(June 2014)  "Rent.com, one of the largest apartment listing services on the internet, announced Portland was No. 8 on its list of best cities for singles to live.  Twenty-four percent of Portland's adults are single."
"2013: Portland voted Number One City in America: the nerdiest, smartest, hardest working, most exciting, and downright best city in the country." (Movoto blog)
"Oregon was the number one destination among people who moved from one state to another last year according to United Van Lines' annual migration study, which tracked 129,000 moves in the United States in 2013."
In Portland there's more demand for housing than there are housing units to meet it.  The laws of supply and demand are grinding away at renters:  limited supply has brought the vacancy rate down among the lowest rates in the US and rent rates have soared.  Building out into the countryside is not an option.  The Urban Growth Boundary (UGB) was designed to contain urban sprawl, and it has done a good job of protecting agricultural and forest lands from unregulated growth.  But at a price: the lid is on the pressure cooker.  There's tremendous demand for buildable land inside the UGB because the current inventory of housing stock is insufficient to meet the demands of a growing population.  We need more housing.
At first glance, new apartment construction would seem a good solution for meeting Portland's dual aspirations to remain livable while increasing density.  And therein lies a story.
A decade ago, the City Council approved rules allowing developers to forgo onsite parking for new housing close to transit lines. The idea was to encourage more density and help developers keep costs down.  The rules didn't meet much opposition at the time; in fact, the rules were congruent with the ethos of the bike culture which then, as now, was viewed as a key element in the makeup of Portland's distinctive, environmentally-responsible character.   Fewer cars, more bikes.
In 2012 applications and apartment building starts began to spring up all around Portland's close-in-'n-cozy traditional neighborhoods.  With zoning rules that didn't require developers to add parking places – but provide for bike parking – neighbors began to protest.  The focus of their ire was concern about increased traffic and an inability to find parking in front of their homes. And though the new apartments were designed to attract those with a bike-first mentality, not all of the new tenants had chosen a car-free existence.
Nowhere then, as now, was the effect of the apartment boom more apparent than along SE Division, where a 13-block strip was becoming home to as many as eleven new 3-and-4 story apartment buildings. That's 224 new rental units in 13 blocks.  Seven of the 11 new buildings didn't have provisions for on-site parking, owing to the rule that exempted developers from having to provide it.  Pressure on Division's adjacent neighborhoods buckled tempers as more and more residents (and patrons of the streets' booming restaurant trade) fought for a handful of parking spots.  (A Willamette Week article quoted a neighborhood resident who called the new strip of apartments "a dormitory without a college.")  Last March a late-night fire was started in a partially completed apartment, to date no one has been held accountable.  Old-time Portland residents however were reminded of the arson fires that burned Lake Oswego developer's Phil Morford's Nob Hill townhouses back in the early 1980's.
The Portland City Council responded to neighbors' concerns last April.  They changed the rules to require that new apartment construction with more than 30 units must provide parking on a tiered basis:  buildings with 31 to 40 units will have to provide one parking stall for every five units. Buildings with 41 to 50 units will need one stall for every four units, and buildings with more than 50 units will need one stall for every three units. (Source, Elliot Njus, The Oregonian, April 10, 2013)  Applications awarded permits prior to the adoption of the new rules were exempt; as a consequence, parking remains a stubborn problem along Division.
Portland's growing up, and with growth comes growing pains. But the long-term prospect of higher density housing looks favorable: car sharing, peer-to-peer car sharing, trollies, mass transit, biking, micro-groceries, neighborhood bakeries, wine shops, and host of other innovations and life-style choices are beneficial fallout from increasing urbanization.  We say, bring it on Portland!
That's a little history, but the tale's not yet told.  Meanwhile, let's get outside and enjoy all the bounty that a Portland summer has to offer us!