Following the September 2015 trend, October brought some cooling to real estate activity in the Portland metro area.  While market watchers are divided over the explanation for the slowing trend, most agree that it's a blip on the screen and that the market will resume its rise in the coming Spring 2016 market.  (Some observers cite buyer fatigue as the cause for the slowing trend, others attribute it to the season: with Thanksgiving right around the corner many home buyers have put aside moving plans in favor of making preparations for the coming holidays.)
As we discussed in our renent Notes from Shannon and Jeanne, inventories of homes – one of the hallmarks of the Great Recovery – have remained at historically low levels all year.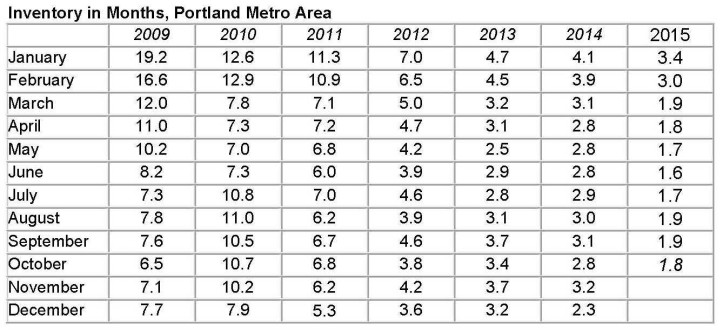 As a reminder to long-time readers of our Notes. . . and as an explanation for the benefit of recent arrivals to this page, Inventory in Months is a common measurement of market demand.  It's a hypothetical model that measures housing supply vs housing demand by calculating the rate that inventories of homes are being absorbed by buyers.  Based on the rate homes were taken out of the inventory in October 2015, we only have 1.8 months' supply of homes left to meet buyer demand.  A market is considered to be in balance between supply and demand, or sellers and buyers if you will, when there is something in the range of 5-to-8 months' housing supply.
Average and Median Sale Prices.  Prices continued to rise in 2015 compared to 2014. Comparing each year through October, the average sale price rose 6.1% from $333,200 to $353,400. In the same comparison, the median sale price rose 7.0% from $285,000 to $305,000.  North Portland has lead Metro-area appreciation with a 13.3% posted gain; Tigard/Wilsonville (8.9%); SE Portland (8.6%); Oregon City/Canby (8.2%); and NE Portland (7.4%) were among other areas showing the strongest gains.