Remember?  Everybody was talking about the Really Big One.  Drought affected every county in the state.  There were big fires in Eastern Oregon.  Cannabis was legalized.  Apartment buildings were springing up everywhere.  Traffic, the traffic got bad.   Lots of people were moving up from California and other parts of the nation.  The Force Awakens was going to come out in December.
It was the year that real estate got really tight in Portland.  The Oregonian, Willamette Week and the Mercury headlined the story every week with eye-catching headlines like, "Metro Area Sees 10-Year Housing High Again," and "Laid Low By High Rents (A wave of rent hikes and evictions grips Portland as investors swoop in to profit from a tight market)," and "A Summer of Evictions," and  "Rental Prices Skyrocketing."  While much of the focus was on a very tough rental market, and the City's ongoing struggle to provide adequate affordable housing to its low-income citizens, the pinch on houses for sale attracted lots of notice as well.
A good illustration of the tight real estate market can be seen in the chart from this month's Portland Market Update, reproduced here: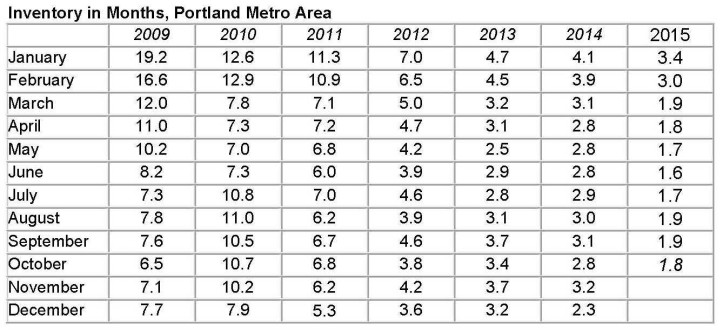 As a reminder to long-time readers of our Notes. . . and as an explanation for the benefit of recent arrivals to this page, Inventory in Months is a common measurement of market demand.  It's a hypothetical model that measures housing supply vs housing demand by calculating the rate that inventories of homes are being absorbed by buyers.  Based on the rate homes were taken out of the inventory in October 2015, we only have 1.8 months' supply of homes left to meet buyer demand.  A market is considered to be in balance between supply and demand, or sellers and buyers if you will, when there is something in the range of 5-to-8 months' housing supply.  Remember the winters of 2009, 2010, and 2011, when the market was flooded with houses for sale, and there were hardly any buyers?  Back then there were times we had more than a year of inventory languishing on the market.
Time's change, and we have plenty of buyers who'd like to buy a home now.  The market – and prices – are soaring past the old market highs from the 2006 / 2007 boom years.   New housing starts can't keep pace with demand, and demand is unabated.
And Portland's growing.  Metro's August 2015 "Comprehensive Plan Recommended Draft" says it expects Portland's population to increase by 260,000 residents by 2035.  (The introductory sections report are quite readable, and worth the read: http://www.portlandoregon.gov/bps/article/541677.) The Census Bureau's most recent (2014) estimate for the Portland Metro area was 619,360 inhabitants.  Adding 260,000 more people to the region will increase our population by 42%.  It'll be a long time before housing can catch up.
Where are all those people going to come from?  While everyone has California in the cross hairs, the truth is a little more nuanced.  About 137,000 people moved to Oregon from outside the state in 2014.  Of those, just 57,000 came from Washington State and California.   Another 23,000 came from overseas.  The rest came from all over the country.  A couple of months ago we wrote, "In-migration is the principal reason prices have kept moving up, and it's not likely to slow."  That trend [in-migration] is becoming better established now and, again, according to Metro, it'll persist for many years to come.
Bringing the light to shine on California though, can we ask if there's any similarity between the California drought and the 1997 transfer of sovereignty of Hong Kong from Great Britain to China?   Back in 1997, in the face of distressing economic uncertainty, a tsunami of Hong Kong immigrants (and wealth) flooded Vancouver BC; the resulting prosperity made Vancouver the most expensive city in North America.  Will Californians, in the face of distressing climatic uncertainty, make an exodus from their state on par with Hong Kong's?
Is in-migration bad for Oregon?  Just 51% of people who live in Oregon were born here. The rest have come from somewhere else – so consider that in the light of the remarkable quality of life we have here.  From coffee giants like Stumptown's Duane Sorensen, a Tacoma-born transplant, to James Beard Award-Winning master chef Andy Ricker (Pok Pok, Pok Pok NY, Sen Yai, et al.) (North Carolina), Oregon owes a lot of "What's Oregon" to out-of-state transplantees.
And in a September 2015 post titled "Migration (In Defense of Californians)" by Josh Lehner, a senior economist with the Oregon Office of Economic Analysis, Lehner writes that "Americans have been moving to Oregon in droves since Lewis and Clark and are likely to continue to do so."  Lehner says migration is vital to Oregon's economic health, stating, "It [migration] brings both skilled, young households who will set down roots . . . and a strong influx of retirees with a lifetime of experience and some wealth. . .  Our state's ability to attract skilled, young working-age households is a huge economic benefit."
Happy Thanksgiving Everyone, here come the Holidays!