In the News:  On June 10th, The Oregonian reported that Portland's Bureau of Planning and Sustainability (BPS) is preparing a set of regulations to govern infill development to meet the city's needs for more housing in the face of its recent rapid growth.   The proposal seeks to:
Limit the size of single-family homes and end developer's practice of taking down small houses and replacing them with large, expensive "McMansions."
Encourage more multifamily housing options. The proposal would allow developers to build more accessory dwelling units (ADU's), duplexes, triplexes and even four-plexes on as-yet undesignated housing lots.
Allow more houses on some lots. The proposal would make it easier, in some cases, to re-establish historic narrow lot lines that lie under larger, consolidated parcels where there is currently only a single home.
Permit development without provisions for on-site parking.
Prohibit "snout houses" (front loaded garages).
An on-line survey of around 7,000 participants conducted by the BPS this past winter revealed that the public's greatest concerns are housing affordability; demolition of existing viable homes and the consequential loss of neighborhood character and history; parking and congestion; and loss of tree canopy.
While the proposal to adopt more "middle housing" alternatives in Portland's single-family residential zones may not wholly allay all the public's concerns, we endorse a course change to Portland's housing regulations.
The project summary and timeline are available by going to http://www.portlandoregon.gov/bps/article/533961.  The public is invited to a series of open houses throughout June and July.   (For a schedule, click here: http://www.portlandoregon.gov/bps/67728.)

Can't make it to a meeting?   In addition to open houses, an online open house and questionnaire will offer community members another chance to learn about the project and give staff feedback.   As of this writing the open house and questionnaire haven't appeared on the internet.
Want a Bird's-Eye View of How Portland is Growing?  Coolest web site ever!  Click on http://www.nextportland.com/ for an interactive aerial map of Portland – zoom into your neighborhood! – and keep tabs on all the growth that's happening here.  "Next Portland" covers all "multi-family residential, retail, cultural buildings, educational buildings, hotels and other large projects happening in the City of Portland. [They] cover both new buildings and major alterations or additions to old buildings. [Their] blog posts are exclusively written about projects that are either still in the design phase, or are under construction."   Take a look!  Do you want to know more about the construction at NE 7th, between Russell and Knott?  That's going to be a 6-story, 68-unit apartment building.  And that's a 4-story, 40-apartment complex going in at 2330 NW Raleigh, in case you were wondering.   We find ourselves referencing information off this site two or three times a week – it's a terrific way to stay informed about growth and development in the city.  Check it out!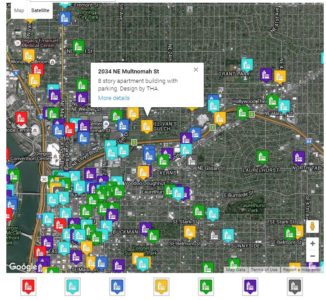 Seeing a Slowdown?  The current seller's market kicked off in January 2013, which was 42 months ago.  The chart looks impressive: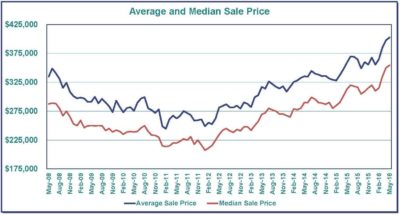 In those 42 months the average price of home in the Metro area has risen 28%, from $287,700 back in January 2013 to $402,500 at the end of the May 2016 reporting period.  While sales remain robust, we're seeing a decrease in the numbers of participants in bidding wars and even a slight increase in inventories in certain market segments (among more expensive, $600,000-plus homes; in outlying suburbs).  With school getting out and summer vacations cropping up in the calendar, June sales often soften, certainly, but a three-and-a-half-year old market is getting a little long in the tooth. . .  and there's the fall election and attendant uncertainty surrounding it just ahead.  Going into the summer market we'll simply note there's a faint warning light on the dashboard, and leave it at that.   We remain unveeringly, cheerily optimistic about the health of the market in the long run.