Portland Poised to Lead the Nation Again in 2017.  As we near the end of the second month of 2017, we see a strong consensus among all market forecasters that Portland housing prices will be among the nationwide leaders again.  Look to Portland, Seattle, and Denver, as last year, to lead the pack.
How Much of a Good Thing?   Industry experts predict that Portland home values won't rise as fast as they have over the past two years, but Portland will still outpace the national average.   The drumbeat – strong demand and limited supply –  will produce anywhere from 5.5% home appreciation in our Portland market, according to Zillow (https://www.zillow.com/portland-or/home-values/), to as much as 11.1%, according to Veros Real Estate Solutions, a company that specializes in property valuations and analytics.  The National Association of Realtors is hanging with Zillow and forecasts that the Portland market will see 6.6% price appreciation this year.  It'll be fun to see whose prediction wins out when we review the numbers next February.
Just What's Pushing Our Market Ahead of the Pack?  The Portland and Seattle markets are benefiting from robust economies, growing populations, and continuing low inventories of for-sale homes.
Here in Portland the economy is in full swing.  The unemployment rate, at 4.6%, is the lowest we've seen here since those halcyon dot com days back at the end of the last century.  The job market's strong and growing at 3.5%.  Take note: economic growth is no longer limited to just high tech industry; instead, it's spread across a wide spectrum of different industries.  Our economy is more diversified than at any time in the State's history, and with broad diversity there's greater economic stability.
And people are continuing to stream into the Metro area: the most recent data from the US Census Bureau shows we added 40,621 new residents from 2014 to 2015. That's 4.6 people per hour, 24 hours a day, 365 days a year.
Housing supply on the other hand has not kept its pace with our growing population.  Doh.  We've not seen more than two months' inventory of for-sale homes since March 2015, and even with all the multi-family housing starts we're seeing here, we're not likely to see any significant improvement in housing inventories for at least another two years.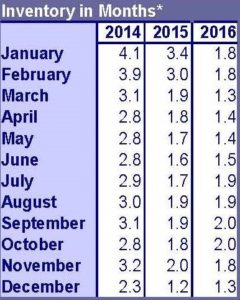 Anything Scary Further On Down the Road?  Well, no, apparently not in the short term.  Interest rates are predicted to remain well within reason for the year, with most analysists putting the year-end mark at 4.75 – 5.0% for the conventional 30-year fixed rate mortgage.  Pat Stone, Chairman and CEO of Williston Financial Group (WFG) and WFG National Title Insurance Co., spoke before a group of Realtors last week and said the outlook for the Northwest, regardless of whatever may come down from Washington this year, points to a robust market "at least" all the way through the first half of 2018.  We're on board with Pat.