August 9, 2017
Dear Portland Housing Market –Long May You Run?  Portland-area home prices climbed 8.9 percent during the year ending in May, according to the S&P CoreLogic Case-Shiller Index, an increase second only to Seattle's 13.3 percent rise.  And bronze medal finisher Denver rounded out the podium with a 7.9 percent increase, meeting late-2016 forecasts that the three would lead the nation in price appreciation this year.  (Read our Portland Market Update for the latest statistics and a Portland area-by-area appreciation report.)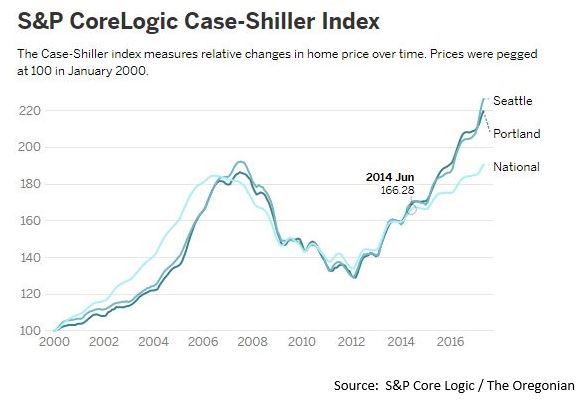 Portland's price appreciation has slowed since a year ago, when prices were up 12.5 percent, and, reporting sluggish market activity in July and August, area agents are asking each other today, "Is these just a typical summer's market doldrums, or is a protracted slow-down shaping up ahead of us?"
Our market has been on a long march upward, with steady growth since the market recovery began in late 2012. Most observers point out the leading forces driving this market have been low inventories of homes and low mortgage rates; recently we're reading more reports that new home buildings starts have stalled, which will exacerbate matters in the future.
But that little business about interest rates. . . .
There's growing interest (pun) in what effect the rising Fed Reserve rate may be having on home sales.  In June the Fed raised short-term interest rates by a quarter point, marking the Fed's third rate hike since December 2016.  That's not at all what economists foresaw; the consensus among them late last year was we'd only see two, or, at most, three rate hikes this year.  In fact though, with reports from the Federal Reserve Board that its members are steadfastly optimistic about the health of the economy, and less and less worried about creeping inflation, there's a strong likelihood the Fed will raise rates once or even – gulp – twice again before the end of the year.
It's like that adage about boiling a frog, there's going to be a point where raising the temperature on interest rates is going to kill off some buyers.  Remember, the factors that have spurred on this hot market have been limited inventories and affordable mortgages.  We're keeping a close watch on the market this month, and, going into September, we're expecting to see our customary bump in sales activity between Labor Day and late October.  If we don't get the bump, and interest rates continue to rise, will consumer sentiment falter?  Will buyers take a rain check on moving until next spring?