February 2, 2018
Depending on who you talk to, the upcoming 2018 real estate market is going to follow the faltering footsteps of late last year's market (more about that in a second) or it's going to rocket off the launch pad come spring, just like it has done every year since 2013.
No one doubts that the market slowed perceptibly last fall, and the stats go a long way to prove it: the RMLS of Oregon reported a steady decrease in closed sales in September, October, November, and December, with each month recording fewer sales than the previous month. December's sales figures were off an astonishing 10.3% from November's anemic performance, and many people – Realtors, title companies, and mortgage brokers – have been troubled since last October about the fallout that an extended downturn could rain down on the industry.
Mind you, not everyone is unsettled about the market having faltered, and many market observers have even welcomed the news. First time home buyers, particularly pressed to the max by limited inventories and fierce competition, certainly benefited from the slow down. In late December the Oregonian headlined a story, "Year-end lull a rare sign of normalcy in housing market, but will it last?" that profiled the respite first-timers have gotten recently, and, as the title of the article suggested, raised concerns that the party may not last very far into the new year.
Your loyal reporters are of the mind that this past fall's market malaise was a blip on the screen, albeit it a pretty bright one. We anticipate the market's going to run hot again this spring:
Inventories of for-sale homes will remain discouragingly low well into the foreseeable future. While new housing starts rose to a 9-year high in October, we'll need several more years' home building activity to catch up on demand. The industry is unanimous in calling out low inventories as the single biggest factor that will affect the 2018 housing market.
Employment will remain stable and wage growth – which we acknowledge has not been able to keep up with housing price growth – will continue as Portland – and the nation as a whole – is faced with very low unemployment figures.
Interest rates picked themselves off the floor this past year, and there's not much doubt that we'll see further rate increases this year, to 4.5 – 4.75%, but in the big picture, rates will remain remarkably low.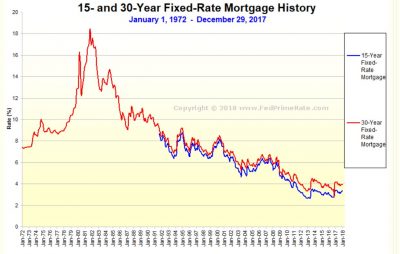 We've tolled the bell for several years about in-migration from other states, particularly California. Two or three years ago we wrote, "If one-quarter of one percent of Californians is displaced by drought, that's 80,000 people. . . ." Let's update that sentiment for 2018: if one-quarter of one percent of Californians is displaced by drought, fire, flood, and landslides, that's 80,000 people.