The Portland real estate market has begun to show signs of weakening from the critical efforts our state and our citizens have been making to curb the spread of the COVID-19 virus.  Governor Kate Brown has not curtailed real estate activity.  Her Executive Order can be summarized in one sentence: If social distancing requirements (minimum of 6 feet) and additional sanitizing criteria cannot be met, the activities cannot be conducted.  In response, the Oregon Association of Realtors, the Portland Metropolitan Association of Realtors, independent brokerages, and their agents are adapting quickly to new means of marketing and selling residential properties:  Listing appointments, contract negotiations, and marketing activities are being conducted via Zoom, FaceTime, and related technologies.  Homes are being shown 'virtually' with 3-D tours and FaceTime appointments.  Real estate brokerages are implementing strict precautions that comply with CDC guidelines to protect their agents, their clients, and other participants in real estate transactions from the spread of the virus.  (As examples, homes for sale now need to have adequate sanitization products prominently available for any visitors; agents only are allowed to open doors, turn on/off lights, etc; all visitors are encouraged to leave their hands in their pockets and maintain strict social distancing protocols, etc.) 
We anticipate further restriction of real estate sales in Oregon as we bend into the curve of the COVID-19 outbreak already experienced by neighboring California and Washington. What's the Outlook for the Real Estate Market? In light of the Governor's Executive Order and the real estate industry's response, we are seeing the market begin to react. New listings, pending sales, and closed sales are down about 9% in comparing the last week's reporting period with the previous week. Withdrawn and Canceled listing are up 9%.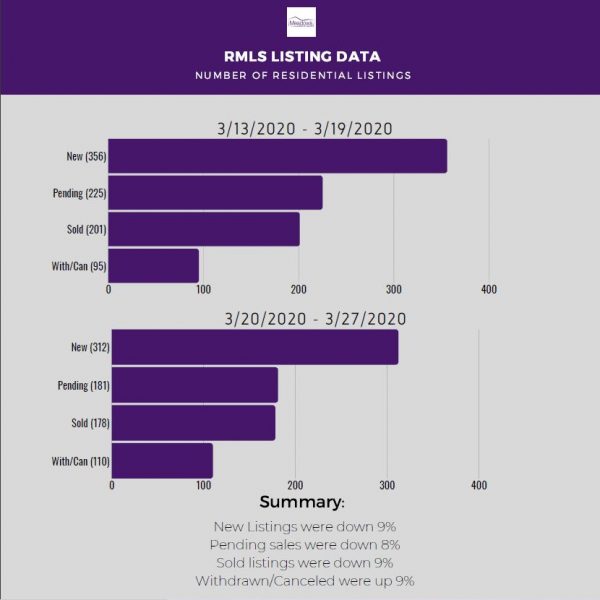 Long time readers of our "Notes from Shannon and Jeanne" may recognize an old chestnut from our archives:  As Jean Dixon, one of the best-known American self-proclaimed psychics of the 20th Century, said, "If you must predict, predict often."  Many expert predictions about the COVID-19 crisis draw comparisons to the market disruptions we've experienced in the past.  9/11 is most often called attention: it, like COVID-19, was a rare experience that was not systemic in nature.  It happened and it didn't last long.   It was not caused by an economic or "systems" breakdown, but by an external event.  Therefore, it's reasoned, the economic and political structures in place before the crisis will be unaffected by it and normalcy will return as soon as the dust has cleared.
  "What 9/11 has in common with what is happening today is that this shock has also generated fear, angst, and anxiety among the general public.  People avoided crowds then as they believed another terrorist attack was coming and are acting the same today to avoid getting sick.  The same parts of the economy are under pressure – airlines, leisure, hospitality, restaurants, entertainment – consumer discretionary services in general."  [David Roseberg, Chief Economist, Gluskin Sheff and Associates] 
We watched a Facebook video which likened the effects of the damage from COVID-19 on the housing market to the effect of a tornado (the 2006 – 2012 housing collapse) versus a snowstorm (9/11):  A tornado passes through in a hurry and leaves devastation in its place, there's a need to rebuild, While a snowstorm can be devastating, once it melts the infrastructure to start up again remains.  We appreciate the comparison and love the prospect of a fast recovery, but we aren't quite on board with the analogy.  This analogy fails to note that a whopping snowstorm can leave a significant flood behind as it leaves, not exactly leaving everything open for immediate business.  Importantly, the severity of the Coronavirus is not being felt by one city on one day.  Here we do not mean to minimize the impact of 9/11; it was catastrophic for our country.  However, the coronavirus is marching through the country, at different rates, and leaving country-wide devastation in its wake.  Its damage will probably not be systemic, we may not need to rebuild the financial industry.  The true effect of the coronavirus on the housing market won't be felt for at least another month.  And it will depend on the duration and severity of the crisis – both largely undetermined at this time – before we can begin to talk about probable outcomes with any authority. 
Stay safe.