September housing prices and activity show signs of seasonal slowing.  [Reporting period: September 15, 2013].  Price appreciation slowed slightly in September as the market, overheated since January, moved into an anticipated seasonal slowdown.  New listing activity, the life-blood of our housing market, fell 14.5% from the previous month, from 3,423 to 2,925, but we must keep things in perspective: that 2,925 figure marks a 19.3% increase over the 2,451 homes listed in September 2012.  Closed sales, at 2,158, decreased by 17.7% compared to August, when there were 2,623. Nevertheless, this was the best September since 2006, when RMLS™ counted 2,506 closings.
The average sales price for September was $317,300, off .14 percent from August's $321,900 and .28 percent off August's $326,500 high water mark.  But again, a little perspective is in order: September's figure is up 14.2% from the same period in 2012, when the average was $272,200.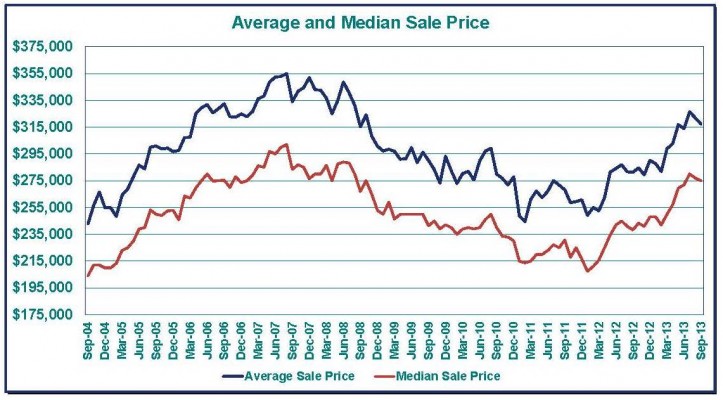 Inventory has increased slightly to 3.7 months, and total market time – the number of days from when a property is listed to when an offer is accepted – is currently 72 days.
Inventory in Months, Portland Metro Area
| | | | | | | | |
| --- | --- | --- | --- | --- | --- | --- | --- |
| | 2007 | 2008 | 2009 | 2010 | 2011 | 2012 | 2013 |
| January | 6.2 | 12.9 | 19.2 | 12.6 | 11.3 | 7.0 | 4.7 |
| February | 5.2 | 10.4 | 16.6 | 12.9 | 10.9 | 6.5 | 4.5 |
| March | 3.8 | 9.1 | 12.0 | 7.8 | 7.1 | 5.0 | 3.2 |
| April | 4.4 | 10.3 | 11.0 | 7.3 | 7.2 | 4.7 | 3.1 |
| May | 4.5 | 9.2 | 10.2 | 7.0 | 6.8 | 4.2 | 2.5 |
| June | 5.0 | 9.5 | 8.2 | 7.3 | 6.0 | 3.9 | 2.9 |
| July | 5.7 | 10.0 | 7.3 | 10.8 | 7.0 | 4.6 | 2.8 |
| August | 6.2 | 9.9 | 7.8 | 11.0 | 6.2 | 3.9 | 3.1 |
| September | 8.6 | 10.4 | 7.6 | 10.5 | 6.7 | 4.6 | 3.7 |
| October | 8.4 | 11.1 | 6.5 | 10.7 | 6.8 | 3.8 | |
| November | 8.3 | 15.0 | 7.1 | 10.2 | 6.2 | 4.2 | |
| December | 8.5 | 14.1 | 7.7 | 7.9 | 5.3 | 3.6 | |