Greetings and Happy New Year!   We're pleased to preface our Annual Market Forecast with good news:  propelled by steady, strong buyer demand; limited inventories; and the lowest interest rates on record, industry experts are calling for 2013 to easily rival – and even surpass – last year's high marks.   The turnaround in the real estate market that began in late 2011 gathered steam during last year's spring market and has been running hot and fast since then.  As we enter the New Year market activity appears unabated with industry experts calling for gains in 2013 in all regions and across all sectors of the market.
In keeping with last year's Forecast, we'd like to share Dave Liniger's "Ten Key Factors" that will affect the US real estate market in 2013.  Here's Liniger, Chairman and co-founder of RE/MAX International and one of the industry's most respected leaders (in italics) and our thoughts as well:
1. More Homebuyers and Sellers will come back to the market.  Buyers began to return to the market in greater numbers last April.  Liniger's prediction that we'll start to see more sellers coming into the market is welcome news (see below).
2. Homes sales will rise by 6-7% and prices rise by 3-4%.  Liniger's outlook is congruent with last year's metro statistics: homes sales rose 19.1% and the average sales price in 2012 was up 4.4% and the median was 6.3% higher than the 2011 median.  (See our Portland Market Update for the all latest stats.)
3. The inventory of homes for sale will hit bottom.  Our inventories of homes for sale reached record lows in December.  As prices rise, more homeowners will recover enough equity in their homes that they can "afford" to sell.  And foreclosure / short sale processes are being handled more and more efficiently by the banks, meaning distressed homes can come to market and sell in a time frame that's competitive with "regular" (non-distressed) property sales.
4. Higher-priced homes begin to sell.  First signs that high-end sales were picking up reached our Portland market this past fall.
5. Distressed property numbers continue to fall.  According to the latest new release from CoreLogic, "a leading provider of consumer, financial and property information, analytics and services," distressed properties fell 12.3% during the October 2011 – October 2012 reporting period.  That's a trend industry forecasters say will persist all through this year.
6. The shadow inventory continues to fall.  The shadow inventory, that accumulation of properties that folks would love to sell if they weren't sidelined by mortgages bigger than the market value of their homes, is diminishing as prices rise.  A decline in the shadow inventory is inevitable if Liniger's predictions #1 and #2 hold.  A counterpoint:  dismayingly low inventories will keep some would-be sellers out of the market for fear that they may have nowhere to go if they sell their current home.  Home owners who are thinking they'd like to sell but are unsure of their ability to find replacement housing should consult with a real estate professional first. A good agent will have the analytical tools and experience necessary to make an accurate determination of the risk (and reward) involved making such an important decision.
7. The number of short-sale closings will rise to a peak.  Short sales, those work-out negotiations between upside-down homeowners and their banks, have frustrated the market recovery for the past seven years.  Rising home prices; slow-but-steady improvements in the short sale process; and continuing success with alternative work-outs will help shrink the short sale sector of the market.  Welcome news indeed.
8. Record-low mortgage rates rise slightly by year-end.  The housing recovery comes with a catch: the housing sector's tied so closely to the economic recovery that a recovery in prices will help foster the overall growth of the economy, which will further stimulate the stock market, depress the bond market, and lead to a rise in interest rates.  As of the date of this forecast the benchmark 30-year fixed rate conventional loan is hovering between 3.25 and 3.375%.  Look for rates to rise to the 3.75-to-4.0% level by year's end.  And for reference, look at this chart of 30-year mortgage rates, from the turn of the last century to 2011 (more recent graph unavailable):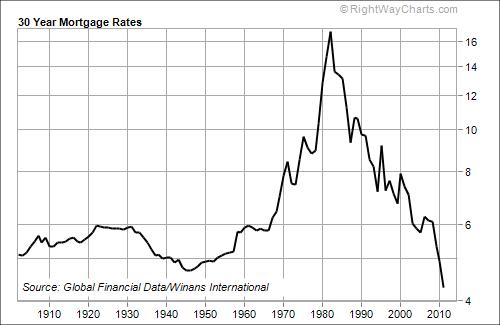 9. Lending remains tight.  Complicated provisions that stem from the 2010 Dodd-Frank Act, meant to prevent a repeat of the lax lending practices that led to the 2007 – 2007 subprime mortgage crisis, have lead to concerns among politicians, consumer advocates and lenders that tight lending standards are preventing a broader housing recovery.  Federal Reserve Chairman Ben Bernanke even acknowledged it in a November speech, saying that "overly tight lending standards may now be preventing creditworthy borrowers from buying homes, thereby slowing the revival in housing and impeding the economic recovery."
10. Home affordability remains the best in years.  The National Association of Realtors projects that the 2012 housing affordability index will reach record high of 194, up from the previous record  of 186 set in 2011.   The NAR forecasts that the housing affordability index will average 160 during 2013, which means on a national basis that a median-income family would have 160 percent of the income needed to purchase a median-priced existing single-family home.  Two factors will press the affordability index down: rising home prices and the prospect of rising interest rates.
As we enter the 2013 housing market we're struck by a confounding fact:  this year is going to be great for buyers and sellers.  Sellers sidelined by low-equity positions will start to see daylight, and the opportunity to sell; buyers are going to bask in the affordable luxury of low interest rates and the promise of more choices among homes on the market.
It looks like another rewarding and challenging year ahead for the Spence Tobey team. We look forward to helping you and your friends with all your real estate needs.  Wishing all of you a happy and prosperous 2013!